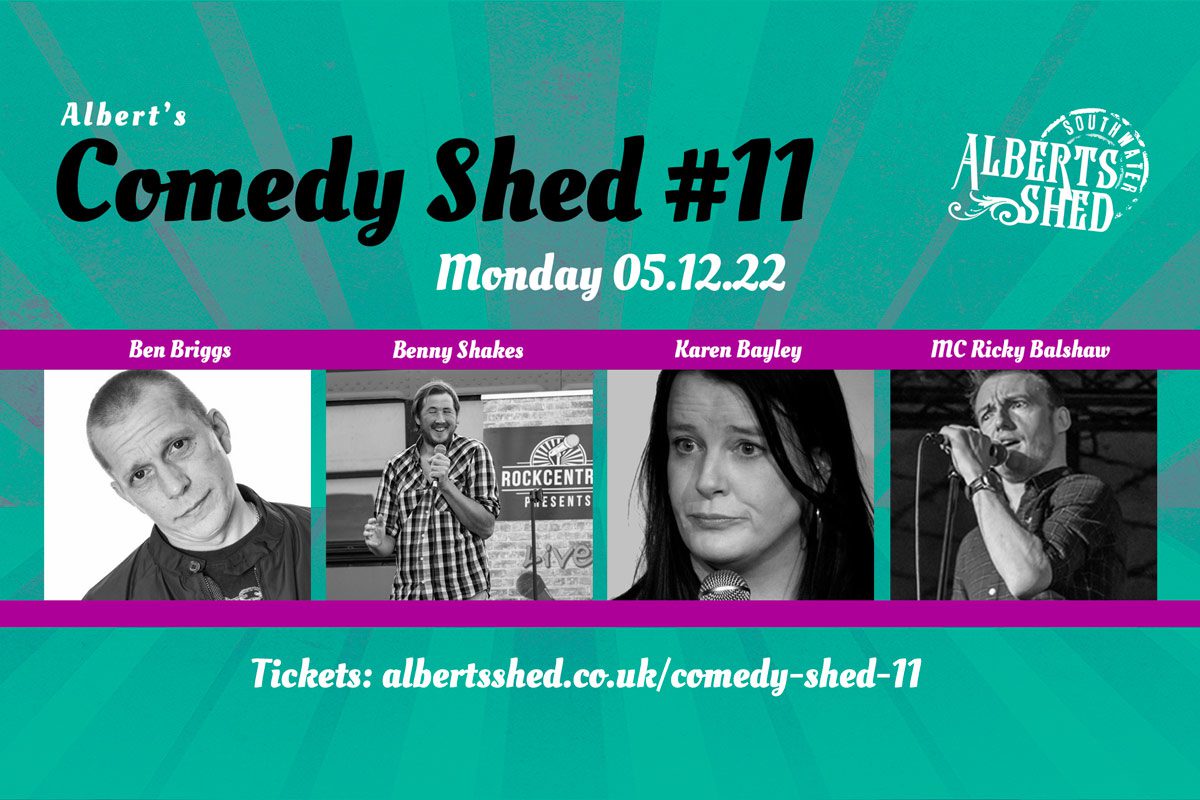 Albert's Comedy Shed #11
Double Header Host Special featuring MCs Ricky Balshaw & Douglas Carter. PLUS Ben Briggs, Benny Shakes & Karen Bayley.
Ben Briggs
Ben started stand-up comedy in 2008 and quickly established himself as one of the hardest working comedians in the country. In his first year, he clocked up over 120 gigs and made it to the final of The Hilarity Bites new act competition and won 2 Funhouse Comedy Gong Shows.
His likeable stage presence and sharp material have made him in demand as an act and compere up and down the country and saw him reach the Final of the Midlands Comedian of the Year Award in 2011.
Benny Shakes
"Benny Shakes is a powerhouse of 'funny' built on a foundation of clever joke writing, from the daily struggles of living with a disability to his observations on red-neck life. Benny is a relatable and affable comic who 'raises the roof' every time." – Anthony Williams, Rocks Central Promotions
Karen Bayley
Brummie comedian & writer, Karen Bayley is the first-ever female winner of the prestigious Comedy Store King Gong Award. The same year she reached the finals of the BBC New Comedy Award & The Babycham Funny Women Award.
"Karen Bayley is one the most consistently hilarious comedians I've had the pleasure of working with. She's a sharp writer and an unflappable compere, able to cajole any room with her warm audience interaction and precise, intelligent gags. A truly hysterical professional." Joe Lycett 2016
MC Ricky Balshaw
BBC New Comedy Award semi-finalist Ricky Balshaw is a former Paralympic, World Championship and European Championship dressage medallist, and sports pundit, with a penchant for dark humour. Join Ricky for a reliably twisted and hilarious look at the unique social and physical challenges he faces as a disabled person as well as having his masculinity challenged just because he rides horses. As seen on BBC One, BBC Three and Channel 4.
The GENERAL ADMISSION - £10 ticket sales has ended!
The Table 24 - 5 People - £50 ticket sales has ended!
The Table 25 - 4 People - £40 ticket sales has ended!
The Table 26 - 4 People - £40 ticket sales has ended!