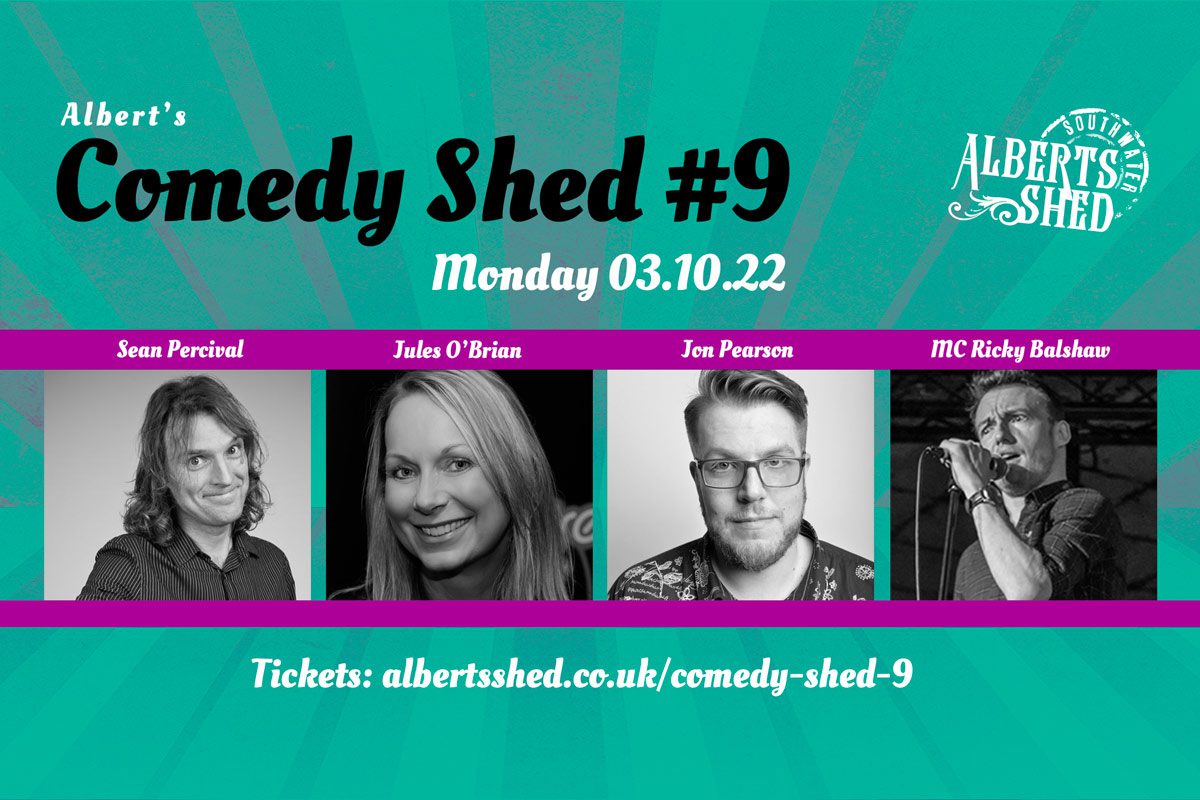 Albert's Comedy Shed #9
Albert's Comedy Shed is a monthly comedy club in Telford featuring a breadth of comedic talent from across the UK, handpicked by bigwigs at Ingenious Fools and performed at Albert's Shed Southwater featuring: Sean Percival, Jules O'Brian, Jon Pearson & MC Ricky Balshaw.
Sean Percival
Sean was born and raised in Dudley. When he left school he became a Fabricator/Welder, which meant early mornings, that didn't fit in with his late night lifestyle. At this point, Sean had no interest in comedy whatsoever.
He didn't own a single comedy DVD and he'd never been to a comedy club, but when Steve (the lorry driver at the factory where he worked, who was also a performance poet and ran creative writing workshops) told him that he was funny and that if he wrote down some of the things he said at work he could possibly be a comedian, Sean decided to give it a go.
Steve took Sean to a comedy club. Sean then wrote some stuff and Steve helped him edit it. Sean started doing open mic spots and a couple of years later he gave up work and became a comedian.
Since then Sean has had a fantastic time performing all over the world. It's a great way to make a living.
Jules O'Brian
Jules O'Brian was shortlisted for Funny Women 2021, and performs at venues and festivals around the country, telling anyone who will listen about ageing disgracefully, body hang-ups, parenting, and dating. She is TalkTalk's official voice – chosen by none other than the legend Bernard Cribbins – and her silly writings feature frequently in magazines including Prima and MamaLife. This former teacher's relaxed and chatty style, crowd interaction and warmth, all served with a sardonic wit, make her a natural crowd-pleaser.
Jon Pearson
Jon began stand up comedy in 2010, with his first performance at Birmingham's Highlight Comedy Club. Cut to nine years later and Jon has become a regular face on the circuit, performing at prestigious clubs such as The Glee, The Boat Show, Up The Creek, Last Laugh, Laughterhouse. Jon's career has even taken him overseas with performances in Spain, Norway and even as far away as Wigan (it is like being on another planet).
MC Ricky Balshaw
BBC New Comedy Award semi-finalist Ricky Balshaw is a former Paralympic, World Championship and European Championship dressage medallist, and sports pundit, with a penchant for dark humour. Join Ricky for a reliably twisted and hilarious look at the unique social and physical challenges he faces as a disabled person as well as having his masculinity challenged just because he rides horses. As seen on BBC One, BBC Three and Channel 4.
The GENERAL ADMISSION - £10 ticket sales has ended!
The Table 24 - 5 People - £50 ticket sales has ended!
The Table 25 - 4 People - £40 ticket sales has ended!
The Table 26 - 4 People - £40 ticket sales has ended!