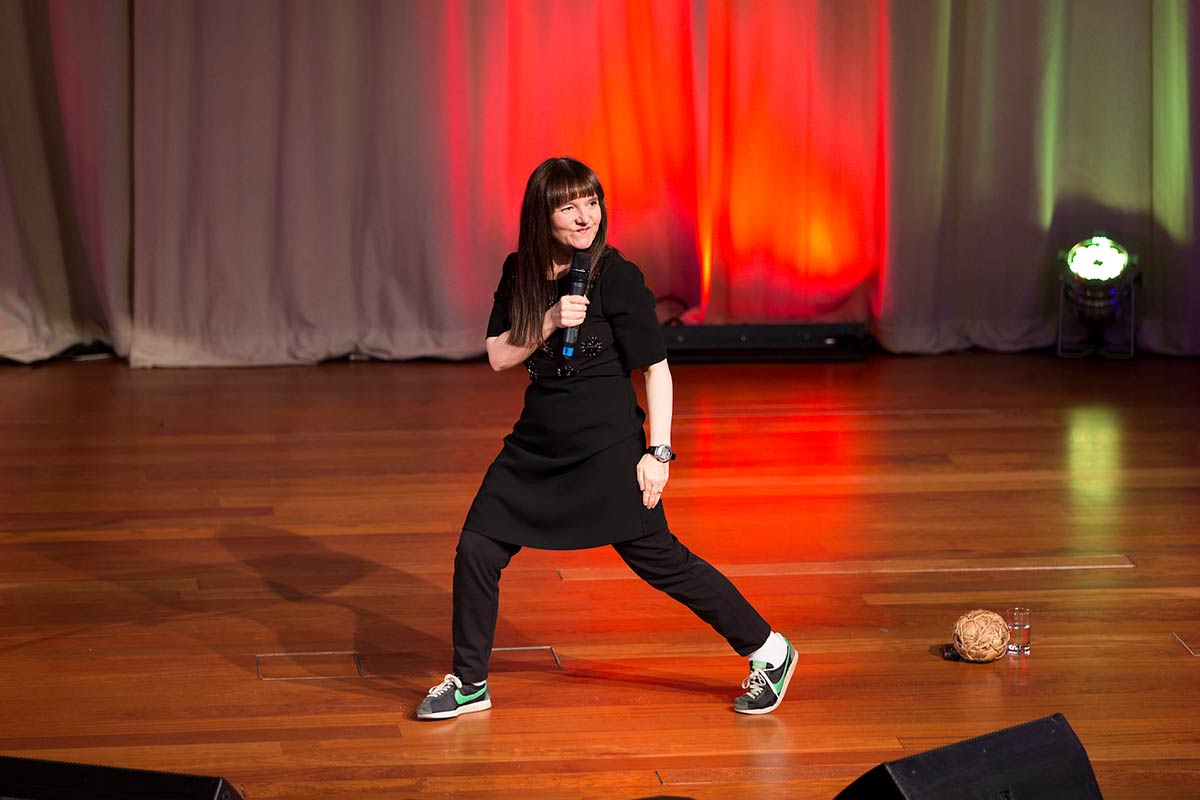 Albert's Comedy Shed #4 w/ Jo Enright
Jo Enright
"One of Britain's best character actresses." – The Independent (Grace Dent)
"Jo Enright is one of the most naturally gifted comic talents I've ever seen. I'd put her in the same league as Julie Walters." – Peter Kay
"A great comedienne." – Jack Dee
For more than a decade Jo Enright has worked with many of the UK's leading comedy writers and directors. Appearing alongside Peter Kay in Phoenix Nights, with Steve Coogan in I'm Alan Partridge and playing the female lead Sue, in Life's Too Short, directed by Ricky Gervais and Stephen Merchant. She received rave reviews for the part of Angela in three series of ITV's The Job Lot and has recently appeared in Guz Khan's breakthrough comedy Man like Mobeen.
Alongside acting Jo is also a highly acclaimed stand up comedienne. She has appeared on many TV shows and toured all over the world performing her stand up. Jo has been Comedian of the year at the Leicester Comedy Festival, won the Chortle Award for 'The Best Female Circuit Comic' and the 'Best Female on the Jongleurs Comedy Circuit' award.
MC Ricky Balshaw
BBC New Comedy Award semi-finalist Ricky Balshaw is a former Paralympic, World Championship and European Championship dressage medallist, and sports pundit, with a penchant for dark humour. Join Ricky for a reliably twisted and hilarious look at the unique social and physical challenges he faces as a disabled person as well as having his masculinity challenged just because he rides horses. As seen on BBC One, BBC Three and Channel 4.
Good Kids
"They're stupid, daft, at times nonsensical. Funny yes but daft as brushes. Just how I love my comedy. Thank the stars they went into stand up and not health care." – Johnny Vegas
Kieran Ahern and Tom Dowling, aka Good Kids, met in the playground at the age of 4. They're daft, weird and lairy. They have been taking the Midlands and wider UK comedy scene by storm for the last few years and have been nominated for a bunch of awards. Kieran is the curvaceous one and Tom is the other one.
Daisy Earl
Daisy is one of the fastest rising stars in Scottish comedy today and is attracting plaudits and accolades at an alarming rate. Having won Best New Comedian at the Scottish Variety Awards 2015, she was then crowned Scottish Comedian of the year in the same year (making her the first-ever female winner.) She then followed this up with a sell-out show at the Adelaide Fringe and returned to the UK to scoop the Best Newcomer prize at the Chortle Awards 2016.
The GENERAL ADMISSION - £10 ticket sales has ended!
The Table 24 - 5 People - £50 ticket sales has ended!
The Table 25 - 4 People - £40 ticket sales has ended!
The Table 26 - 4 People - £40 ticket sales has ended!