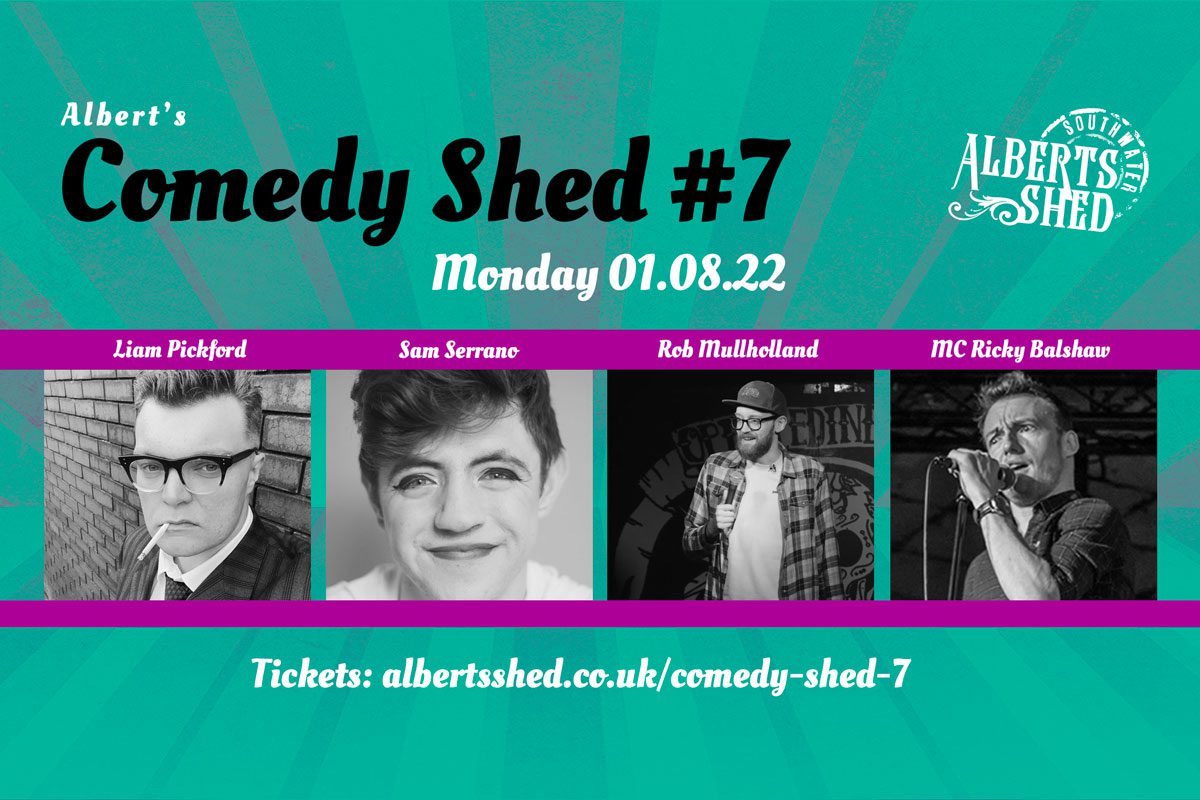 Albert's Comedy Shed #7
Albert's Comedy Shed is a monthly comedy club in Telford featuring a breadth of comedic talent from across the UK, handpicked by bigwigs at Ingenious Fools and performed at Albert's Shed Southwater featuring: Liam Pickford, Sam Serrano, Rob Mulholland & MC Ricky Balshaw.
Liam Pickford
If Stewart Lee, Jack Dee and Morrissey ever had a child together then Liam is who they would call son. Liam started performing stand-up in Manchester in June 2012. His unique style is a breath of fresh air to the circuit with Liam has crafted his own unique brand of stand-up, mixing cleverly honed material and punchlines with excitingly unpredictable audience interaction. All this, mixed in with a hint of 'whimsy' and clever observations whilst delivered in a wonderfully unenthusiastic and grumpy style.
Sam Serrano
Sam Serrano is a gender-fluid, dyspraxic comedian who has been taking the circuit by storm. A regular in clubs across the UK Sam's unique trademark style that is dark and self-deprecating in equal measure has seen him become a favourite with bookers. It has also seen Sam provide tour support for Brennan Reece and perform an incredible five solo hour shows at Hot Water Comedy Club, Nottingham Comedy Festival & Leicester Comedy Festival
Rob Mullholland
Six foot seven of pure funny, Rob Mulholland is a bombastic, mischievous gag-slinging rascal with a heart full of humour and gob full of shite. An established, bullet-proof comedy Pro forged in the fires of the northern comedy circuit who now travels the world packing big belly laughs. A regular at all the biggest comedy clubs in the UK; whether going for the kill with his playful filth-mongering and hilarious, furious tirades against minor annoyances or holding a night together with his genial but sharp hosting skills, he can adapt to any kind of crowd and event.
MC Ricky Balshaw
BBC New Comedy Award semi-finalist Ricky Balshaw is a former Paralympic, World Championship and European Championship dressage medallist, and sports pundit, with a penchant for dark humour. Join Ricky for a reliably twisted and hilarious look at the unique social and physical challenges he faces as a disabled person as well as having his masculinity challenged just because he rides horses. As seen on BBC One, BBC Three and Channel 4.
The GENERAL ADMISSION - £10 ticket sales has ended!
The Table 24 - 5 People - £50 ticket sales has ended!
The Table 25 - 4 People - £40 ticket sales has ended!
The Table 26 - 4 People - £40 ticket sales has ended!